ARE YOU READY FOR THIS YEAR'S FARM JAM?
Hey friends and family, this year's Farm Jam news.It will be the weekend of Saturday, July 28 of 2018.
Our focus is jamming in the Quonset. No skill required but will be appreciated. Come up and play with our ad-hoc band. Bring your instruments or borrow ours. Beginners to rock stars welcome. Kids and adults, sing or play.
Will supply power, outhouse, outdoor barrel shower water, hot dogs and burgers on Saturday supper, BYOB, Feel free to pick from the fruit trees in the garden. 30 cherry trees should be very ripe by then.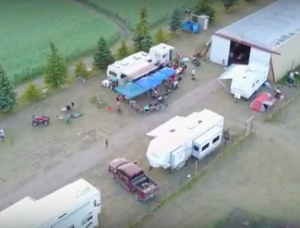 Bring your campers or tents out. Set up on Friday if you like and leave Sunday if you like. You may just come out on Saturday evening. Visit with family and friends.
We are located 10 minutes west of Lumsden, We have a map that can be viewed on smallprairiefarm.com web page under location. You can see the video of last years camping.
See you there,
Malcolm
 Let Malcolm or Diane know if you're coming so they know how much meat to buy.
Also if you will be wanting a spot in tent alley